I train six days a week in the gym, and when I'm not weightlifting I enjoy practicing yoga, or going on the occasional run. So, you could say I'm someone who LOVES getting new workout clothes and lives in athleisure. I'd say I've become an expert in what to look for in fitness apparel.
My Facebook page is always bombarded with ads sponsored by Fabletics (thanks to big data, and my search history consisting of "the best workout leggings for under $20") – that this year for my birthday, my amazing boyfriend decided to become a VIP member and ordered me four pairs of leggings and a jacket. Here's what I have to say about the buying/try on experience.

This post is not sponsored in any way and all items were purchased on my own (out of my boyfriends wallet).

The site was confusing to navigate at first but essentially, it's a subscription-based retailer. Having a membership enables you to receive their sale pricing (2 for $24 leggings, 50% off other merchandise, and free shipping), but be careful! Each month they will send you an email with brand new styles and encourage you to shop with your earned credits – but, if you're like my friend Casey and forget to skip the month, Fabletics will continue to charge you $50 even if you don't use your monthly allowance. You do not need to be a member to shop the site, but you'll be paying full price. So you might be asking yourself, are the savings worth it?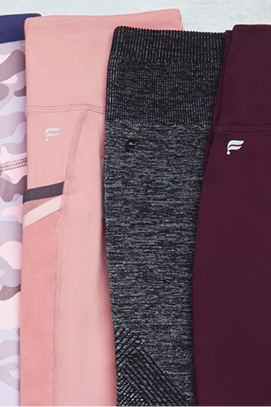 Quality
Overall, I would say the fabric is extremely durable and flattering. Each legging I purchased was their Powerhold material, and let me tell you – the level of compression REALLY sucks you up and in. This is the fabric that was recommended for me based off their Leggings Finder Quiz. Their website claims that this material is recommended for multi-sport activities, but I beg to differ.

Each legging did pass the squat test, there aren't a bunch of loose threads or weird seams, and the material camouflages cellulite. With vibrant colors and patterns, there's no doubt that this is high quality material.
Limited Edition Collections
As someone who classifies themselves as a Lovatic.. I HAD to get these two styles from the #Demi4Fabletics collection. $5 from every item sold was going towards the COVID-19 Solidarity Response Fund for the World Health Organization, powered by the United Nations Foundation. Support my girl Demi AND a good cause? *Confirms order*
Fit
While the material had left me pleasantly surprised… their sizing was all over the place. Their site features a "see how it fits on other sizes" option, and I was sad to see no one under 5 feet is represented. Because I am in between sizes according to their size chart, I ordered two small and two medium sized leggings. With it being my first purchase, I needed to experiment with sizing to know what to look for going forward – but this left me even more confused.
The Kessler style fit me like a glove, which was a size small. But the color block legging I ordered in a small was SO tight, I couldn't even pull the pants above my shins. Thinking I needed a medium, I tried on these camo leggings. Lo and behold these had about 2-3 inches of gapping at the waist, and the top of the waist kept rolling down to the seam. This made me think it wouldn't hold up during a workout at all. Who wants to spend their entire gym sesh having to pick up their pants?! Definitely not me! The last style I selected was a mosaic cut out legging in a size medium, and again, this was a style that couldn't make it above my knees.

If you're short like me, (4'10") expect the leggings to have about 4-5 inches of fabric bunching at the bottom. The 7/8th's style had about an inch or two.
Holy Grail

This colorway is no longer available, but the quality/fit/price of this jacket was the highlight of my order. I love the camo design, and think that the silhouette is very faltering for any shape. The jacket features an embossed design effect, and two side zips. I ordered this piece in a medium and found it to run rather large. I would suggest sizing down here.

Thankfully, if you don't love what you purchased you can return items as long as its within 30 days and with the tags. I ended up sending back three leggings which was quite a disappointment after waiting three weeks for my order. After chatting with an associate, my account will receive store credit, so maybe I'll try again. If I have better luck, I'll write another review. Right now I don't believe these leggings would be used for more than running errands.

All-in-all: if you're someone who loves workout clothes, stays on top of their subscriptions, does low-impact workouts, and has a rather "fit" physique: I would recommend Fabletics to you.

If you're someone who enjoys HIIT, lifting, or any type of steady state cardio that has a muscular/curvy physique: you can find the same quality of legging at your local Target or TJMAXX.
Don't forget to follow me on Instagram to watch try-on stories featuring me struggling to squeeze my legs into pants!